Maria Camahort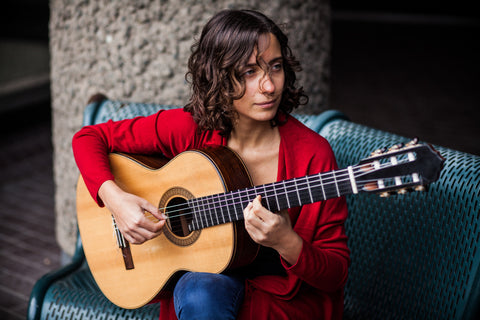 Maria Camahort is a guitarist, ensemble leader, arranger and composer who possesses exceptional knowledge and facility on her instrument within a vast variety of contexts. Her devotion to chamber music and collaborative projects has carried her to major concert halls of cities such as London, Edinburgh, Brussels, Paris, Barcelona, Madrid, St. Petersburg, Moscow, Rostov-on Don, Warsaw, Cracow, Chicago, Hamilton (New Zealand) and Mexico City.     
She has released two albums with her quintet project Iberian Colours, an ensemble that presents a vivid approach to Spanish classical and traditional music. The MCQ released its debut CD Iberian Colours in 2015 with Convivium Records International: "an alternative route to the music of Spain" (Planet Hugill), "a seriously impressive CD" (The ArtsDesk). Their second album "Danzas, Canciones y Nanas" was released in April 2018 with Guitar specialised label JSMRecords. Next CD Launch will take place in Spring 2021, together with pianist and improviser Carles Marigó.     
In addition to her quintet, Maria has been involved in many unique collaborations, including theatre and dance. Her current collaborations include flutist and body-percussionist Neus Plana, pianist and improviser Carles Marigó, Libere ensemble - with David Salleras (Saxo), François Ragot (cello) and Oriol González (bass) -, and the theatre production "Don Quixote of la Mancha" (Little Soldier Prod.).     
Her facet as arranger and composer has been always an essential element in her performance career and part of many of the art projects she has been involved. Lately, she has developed further her composition skills taking lessons with composer Ramon Humet. Her composition awards include 2nd prize in International Composition Contest Maria de Pablos with the work Broken Landscapes (for clarinet and piano), and 2nd prize in II Composition Contest Miquel Llobet, with the work Alba Nova.