Jose Antonio (Ñico) Rojas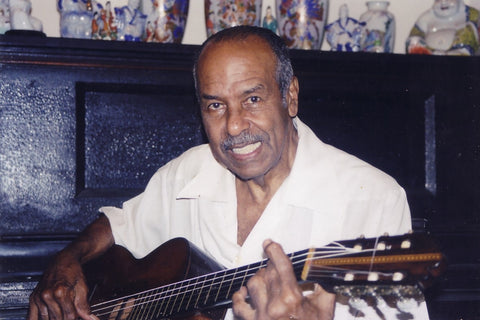 JOSE ANTONIO (ÑICO) ROJAS BEOTO (Havana 1921-2008)
Jose Antonio Rojas , a hydraulic engineer by profession, only ever had the bare minimum of music tuition and never learnt how to write his compositions in traditional notated musical form. 
Ñico was given a guitar as a child but initially occupied himself by simply listening to music, absorbing influences as diverse as classical guitar repertoire, Italian and German opera and, most importantly, Cuban trova, North American popular music and jazz.  It was only later in life that he received lessons in the rudimentary basics of guitar technique, which would eventually go on to serve him so well. 
He began to compose after becoming part of the Filin' movement alongside his contemporaries: César Portillo de la Luz and José Antonio Mendez. Despite never writing down his compositions this never seemed to impede the music, pieces and songs that "came out of his head", seemingly without effort.
For many years the great majority of Ñico's work remained unpublished and unrecorded. A surprise not least because through his life  Ñico had counted Beny Moré, Bebo Valdéz, Chucho Valdéz, Tito Puente, Frank Emilio Flyn, Leo Brouwer, César Portillo de la Luz, and Wynton Marsalis amongst his many fans.
Ñico's music is predominantly from the Filin' era and combines traditional Cuban rhythms and styles with harmonies and melodies deeply penetrated by jazz.